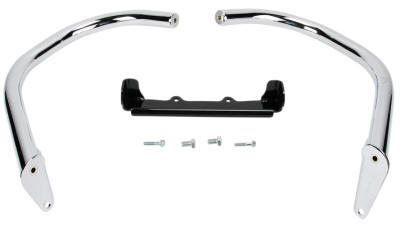 C109 Cobra Freeway Bars
Introducing the 1 1/2" Fatty Freeway Bars exclusively from Cobra, designed to handle today's larger motorcycles. Because the latest generation cruisers are larger than ever before--longer, taller, heavier, with larger displacement engines. Now there's a beefed up companion to their standard Freeway Bars. With larger diameter steel tubing, the Fatty Bars are stronger, and they present a better proportional fit on the larger machines.
Stylish update to traditional cruiser look with improved functionality
CNC-machined chrome-plated mild steel for durability
Custom-fit for hassle-free installation
Work with all Cobra accessories including light bars and floorboards
Made in the U.S.A.
Fitment:
Sug. Retail $349.95
PCS Price $315.95
01-2350